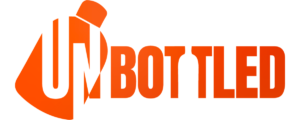 Hey up, this is Unbottled. The weekly newsletter that takes regular PR news, mixes it with creativity and serves you a refreshing email every week.
Here's what we've got for you today:
International Women's Day is coming – how to not get cancelled by that bot
Rihanna is still flying high after the Superbowl with her latest announcement
What makes a good digital PR idea

INTERNATIONAL WOMEN'S DAY
Picture the scene. It's the day before International Women's Day. You create some beautiful graphics about celebrating the day and the empowerment of women. The messaging is great, the tweets are scheduled, and you log off for the night with no worries in the air
The morning hits but something seems a bit… off. 48 Twitter notifications?! Your content must be resonating well!
Opens Twitter & heart sinks 😳
Yep, you guessed it, It was last year's Gender Pay Gap Bot and that was the situation for 100s of comms teams when the infamous profile exposed thousands of companies' gender pay gap live on Twitter.
In this organisation, women's median hourly pay is 22.3% lower than men's. https://t.co/TsZvQFJhZd
— Gender Pay Gap Bot (@PayGapApp) March 14, 2022
And guess what? It's back again this year with an update. Any brand that uses the IWD hashtag will be quote tweeted with their pay gap, AND if the gap has gotten smaller or larger within the last year. eeek.
In this organisation, women's median hourly pay is 30.7% lower than men's. The pay gap is 5.8 percentage points wider than the previous year. https://t.co/TnRWHoZFnr
— Gender Pay Gap Bot (@PayGapApp) March 2, 2023
We're imagining this is the current situation in internal marketing teams up and down the country right now: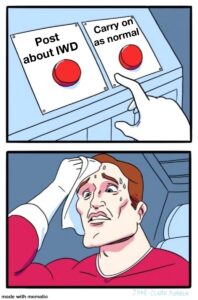 But fear not! We're here with our top BI advice for brands facing the dilemma this week.
Be authentic with your messaging and FGS, this is not a selling opportunity.
We love campaigns centred around these topics, but empty gestures aren't enough. Of course, awareness days are important but wearing pink, throwing a few social posts up and putting some senior women in the spotlight mean nothing without being supported by action. This isn't a tickbox activity – do we really have to advise paying your staff fairly in 2023?
It's about progression, not perfection. This year the Twitter bot will highlight whether brands are moving in the right direction and will be a great chance for brands to showcase the work that is done for gender equality every day of the year, not just in March.
But like ever, if you need some inspiration on how to handle these events, just be more Monzo. Dang it they're good.
👏
Hi there, you're exactly right. We still have a gap and we know that there's more work to do.

But we'd also like to share some of the progress we've made 👇https://t.co/jPGwjP9CQi
— Monzo (@monzo) March 9, 2022
RIHANNA AND PUMA: SHE'S BACK
Back in 2014 Rihanna signed as Puma's Creative Director and released a number of sell-out collections. And last week, this was the announcement…
 

 

View this post on Instagram

 
Puma doesn't seem to be putting a toe wrong right now after reporting record-breaking growth and this could be another great move from them in this latest celebrity collab. Off the back of her Superbowl success, Rihanna seems to be the hottest celebrity in marketing right now. Being partnered with this level of superstar is what many brands dream of – but it only works if it is authentic.
What are other brands doing with celebrity partnerships?
Pharell Williams, Creative Director of Menswear – Louis Vuitton
Molly Mae, Creative Director – PrettyLittleThing
David Laid, Creative Director of Lifting – Gymshark
Will.i.am, Creative Director – Intel (we're not joking, this actually happened)
It seems over the last few years the new celebrity Creative Director has become a bit of a PR fad. Apart from Will.i.am, obviously.
This latest collab between Puma and Rihanna is much more authentic and with Rihanna's long-standing history with the brand, we are predicting sell-out lines when more news is released.
It's a thumbs up from us 👍
WHAT MAKES A GOOD PR IDEA
Here at BI we like to think ideas are our thing.
We like trying new formats, spending time on ideation, and pushing the boundaries of what has been done before.
But let's be real, it's more difficult to land coverage than ever. There are more PRs so that's more competition in a journalist's inbox. A #journorequest can have 20+ replies within an hour with only one likely to succeed. It's the wild west out there.
So what do we think makes a good PR idea, reactive or campaign?
Data & Insight – Every good story has a solid insight behind it. We use this as a starting point for all our ideas & in how we pitch them to ensure sign off
Not stopping at the first idea – as PRs we are often time-poor and feeling the pressure of a KPI. This is a recipe for throwing sh*t at the wall and hoping something sticks. This is a no from us. If your story could have come from a whole host of brands, think about how you can take that idea another step.
Time – Take a step back, and do the research. What are journalists talking about? do you need to go one step removed from the core offering? Brainstorm by yourself. Brainstorm in a group. Whichever method works best for you. No one likes brainstorming the night before a pitch.
Once you have your ideas, it's time to get them signed off. Oh and wouldn't you know – we have some top tips for that too!
Our webinar below talks you through how to do this like a pro.
If you think this is a shameless selfish promotion of our webinar, you'd be right.
HEADLINE OF THE WEEK
Forever mans best friend.

That's all for this week folks. Stay thirsty & see you next week! If you want more, follow us on LinkedIn
– The Bottled Imagination team