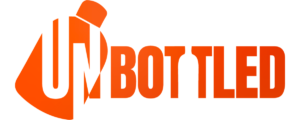 Hey up, this is Unbottled. The weekly newsletter that makes you a fresh sandwich filled with the best PR news each week.
And we even cut the crust off for you, just the way you like.
Here's what we've got for you today:
The new era of product placements

Will TikTok get banned?!

Our tips on thought leadership

THE TED LASSO ICE CREAM
Here at BI, we love Ted Lasso.
It's the best series ever and we won't accept any other opinion. Before we launched there was a serious discussion about having Ted's quotes as our company values.
This was vetoed and I'm still not sure why 🤷‍♂️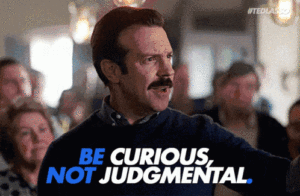 Last week series 3 hit Apple TV and if we dive into the search trends we can see some interesting opportunities for brands.
After just one episode of the show, searches were trending for "Nike Ted Lasso collection", "Ted Lasso Lego stadium" & "Jeni's splendid ice creams".
It used to just be putting a can of coke in the shot, but we can go further as marketers now. Now we can use cultural moments and entertainment to tie in with your brand with immediate results.
Our favourite Ted Lasso collab – Jeni's splendid ice cream releasing a biscuit with the boss range 🤤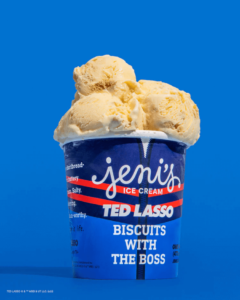 Apparently "sold out online", the ice cream is available in some scoop shops – although the website does warn you to check before making a special trip.
Whether available to the public or not, the PR team sent the ice cream out to several journalists to try and it has landed everywhere. NBC, CNBC & Mashed to name just a few.
Tying a product with a trending topic is one of our favourite PR tactics and if performed correctly can FLY.
But how successful was this campaign? As PRs we need to be measuring our results far beyond the amount of coverage and links.
Let's take a look at branded search…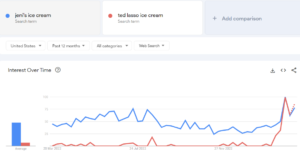 This campaign has led to the biggest brand searches in the US for the past year, just through one collab.
That's a 65% increase from the previous month and a great example of how PR can increase branded search.
Take a bow Jeni's Ice Cream, take a bow.
TIKTOK ON THE ROPES?
Mention TikTok being banned to any social media manager right now and this is what they look like.
Just over 2.5 years since Trump first threatened to ban the app, we're still talking about it now. Following in the USA's footsteps, government officials in the UK have been told to delete it off their phones due to security worries.
We're not sure why they have TikTok installed on these phones in the first place, but that's another story.
So will the app get banned in the west even though it is so ingrained in our culture? No doubt the UK would follow in America's footsteps so here's our take 👇
It's already banned in India, so the blueprint is out there already. But we think this is unlikely to happen anytime soon.

To ban TikTok ByteDance (TikTok's owner) would have to choose to delete its US business and are unlikely to let go of a company worth billions without a fight.

A majority of Congress would have to support the ban and there is currently no indication that that majority exists – even amongst some of the louder voices.

The American Civil Liberties Union has gone on record to say a ban would be a direct violation of the First Amendment and unconstitutional. We're no lawyers but the court battle would be intense.
So for now. Keep calm and carry on. But maybe look at your YouTube shorts strategy in the meantime.
PR TIPS: THOUGHT LEADERSHIP FOR B2B
B2B companies, this snippet is for you.
We're in a recession, you need to demonstrate value in a tough economy. Well, last year LinkedIn found that thought leadership it's one of the most effective tools B2B companies can use to show this. So let's dive in.
So what is it? Thought leadership positions industry leaders as an expert in their field. They can give original thinking on problems, and solutions and enables their company to engage new customers whilst building the brand.
Here's how to get your thought leadership right:
Offer a new perspective. Remember your goal is to be newsworthy. If you are offering regurgitated information then this does not add to the news agenda. Be unique.

A clear point of view. If you speak to everyone, you speak to no one.

Share knowledge and give value. If you have the data – share it! True thought leaders share their insights consistently and this will gain the trust of their audience.
Thought leadership keeps companies in the headlines and done correctly can often lead to inbound communications rather than outbound – where the journalists come to you.
If you want to hear more, just reply to this email 📧
HEADLINE OF THE WEEK
Is it just me or are dogs the most newsworthy animal on the planet?

That's all for this week folks. Keep dreaming & see you next week! If you want more, follow us on LinkedIn
– The Bottled Imagination team