Last week's to-do list:
Existing client work ✅ 

New business calls ✅ 

Drink multiple cups of coffee ✅ 

Oh, launch publicly ✅ 
We couldn't imagine ourselves doing a serious launch video. PR is a fun industry to work in. So we launched with our Netflix-inspired trailer featuring our very favourite, Neil Straw the journalist (if you know you know.) With clients in place and the work underway, we are looking forward to building an agency to be proud of.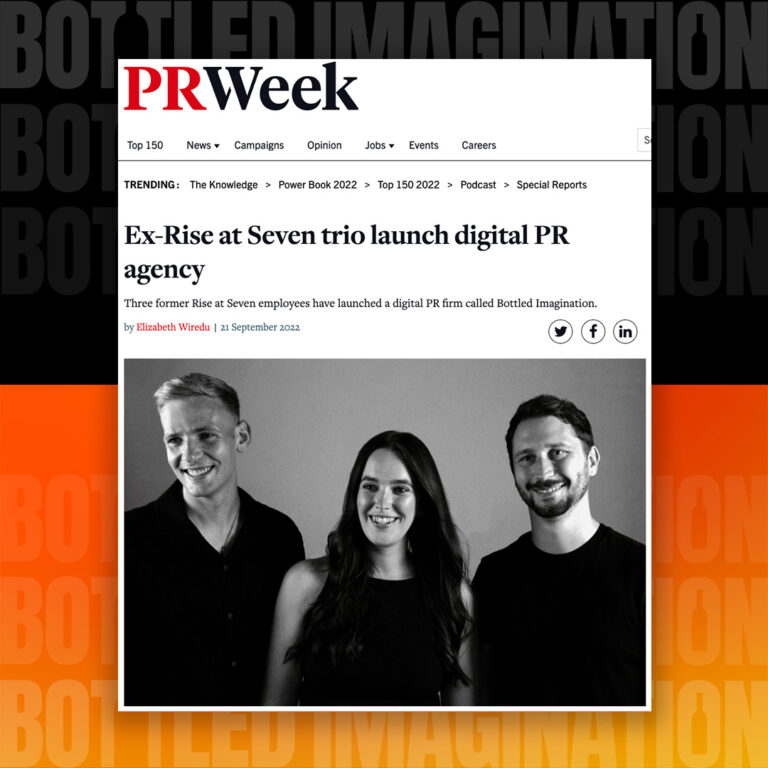 So what makes Bottled Imagination different?
We're a digital PR agency that focuses on creativity and ideas. You might have noticed in our video that we are a tiny bit bored of the same ideas and the same executions. Yes, maps and dream jobs can work. But let's make it exciting – lets push that creativity further. Let's stand out from the crowd. Let's actually move that visibility needle and increase revenue.


But most of all, we just want to do work we're proud of for our agency partners and brands. Half the battle is making sure you're just doing good, creative, measurable work. Once this is nailed, everything else falls into place.
We want to use your imagination. It's kind of in our name. Different ideas, different formats, different ways of gathering data: we get creative in every stage of the process to make sure we stand out.
So that's us. We're here to add a drop of something fresh to the PR industry. After all, we do sell creativity by the bottle.
If this sounds like something you'd like. Agency, brand, consultant, we'd love to hear from you.