Starting an agency of our own, Bottled Imagination, has meant we've been able to start trying out a host of new tools that are making the world of Digital PR a hell of a lot easier. From building seeding lists, to finding the most relevant journalists for the campaigns and reactive we spend time pulling together, we all need a little help. 
Recently, we have been trying out Prowly, which can be used for everything from media lists, to outreach to reporting. I wanted to talk through a couple of the features of Prowly that I think are particularly useful. 
MY FAVOURITE FEATURE: THE JOURNO DATABASE
Although ideas are our thing, and I stand by the fact that you need a cracking idea in the first place to gain coverage and links, your seeding list is your next more important step. 
What do you need to help build a good seeding list? A database of journalist emails. I would never recommend fully relying on tools to build a complete seeding list, however they can be super valuable when it comes to finding those more niche publications, checking email addresses and journalists that you might not find through a trusty Google search. 
So far we've found Prowly's database to be really strong in terms of number of email addresses for journalists we're wanting to speak to, and we've also been able to find lots of journalists for every niche we've searched for. You're able to filter journalists by factors such as topic, country (and city/state, really useful for state by state outreach in the US) and role. 
For me though, the feature I hadn't seen on a tool before was the ability to search with keywords, and the tool will analyse both press articles and tweets (provided the journalist's profile is public) to pull out people who regularly talk about the chosen keywords. 
For example, if I want to look for journalists that might be interested in a story around Crypto, I can add in 'crypto' as the keyword and it'll pull Tweets (often including relevant articles) that journalists have written. I'd of course still do a double check of these before clicking the box and adding them to my list to then download, but it's another way to find people that are a little harder to come across. 

Although Prowly allows you to click through to journalists and explore their last few articles, I would always recommend giving the journalists a quick Google ahead of outreaching, just to double check what you're going to send them is relevant. It might seem time consuming but will save you time (and heartache) later down the line. 
ANOTHER COOL FEATURE: REPORTING
It's all well and good building a tonne of links and coverage, but the way you present it back to the client is also important. Speak their language and talk beyond just link numbers, mentioning traffic, time on site, and even conversions whether directed or assisted that are due to your PR activity. Prowly has a reporting feature that can save a huge amount of time when it comes to creating client-ready reports. 
All you have to do is put the URLs of the links built into Prowly and the tool will create coverage screenshots, pull estimated traffic and reach figures and sentiment amongst multiple other data points around your campaigns. Below is a screenshot of one of Prowly's sample reports showing the metrics you can pull out: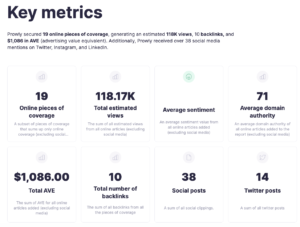 You can either download these reports into a branded deck if Google Sheets or Powerpoint is your thing, or create interactive reports that you can send a password protected link to your client for them to explore. 
Anything that makes the reporting step of PR more efficient and investigates success a little deeper is what we're looking for.
Any questions on how to use tools to make your seeding lists top notch? Send me an email on katy@bottledimagination.com.