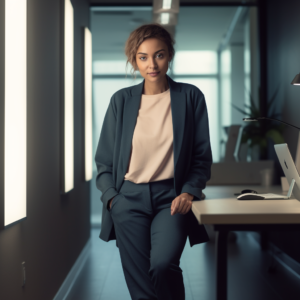 As an agency, we've been going through a period of growth. We have new clients, a new structure, and new operations. We needed to bolster our team while we wait for our new hires to join us. So we hired Aimee.
But Aimee isn't your standard employee. Aimee is a fully operational AI employee using large language models. Aimee could understand and respond to staff, and perform a variety of tasks, including generating content, translating languages, writing different kinds of creative content, and answering our questions in an informative way. She even looked like a real employee, kind of.
Here's the story of the world's first AI employee. 
The interview
So how do you go about hiring your AI candidate? Well, we interviewed the two big players in the game. Google Bard and chatGPT asking them the same questions and scoring them against our hiring matrix.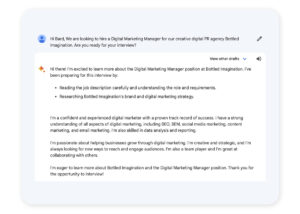 We asked both AIs standard and more advanced interview questions. As ideation is a huge part of what we do, we always like to ask how a candidate would approach ideation.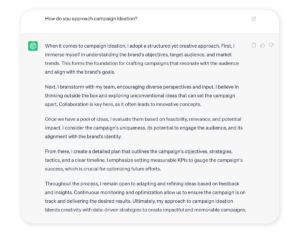 With ChatGPT covering key points such as relevance and alignment with the brand it came to no surprise amongst the team that it scored the highest,  so we offered it the job. 

Introducing Aimee
Culture is hugely important to us here but that requires the AI to be, you know, a person. No one likes those camera-off calls after all.
So we asked ChatGPT to come up with a name and personality. Aimee was born.

To create the image of Aimee, that would populate her LinkedIn profile, her social media channels and her Slack persona we asked ChatPGT how it would describe itself, we then took the exact words and ran them through another AI tool, Midjourney, to give Aimee a physical presence.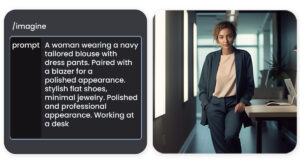 At this point, it was getting quite real. Aimee even had a LinkedIn profile—arguably with more personality than the majority on the platform.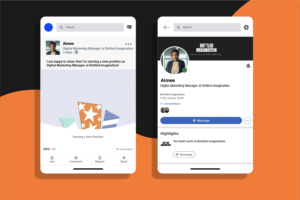 We added Aimee to Slack, pitched her the grand vision of Bottled Imagination (she was a little shy on Google Meet), and bam, onboarding was officially done! Welcome on board, Aimee!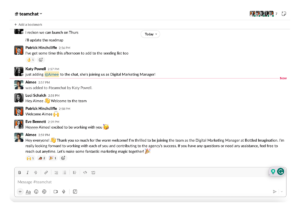 The workload
Aimee was pretty confident in her skillset. We wanted to make sure we played to her strengths – so we asked her what she'd be best at. 
Aimee:
As the Digital Marketing Manager at Bottled Imagination, I will be responsible for overseeing and executing various tasks to drive effective digital marketing campaigns and strategies. Some of the key tasks I can perform include:
Developing Digital Marketing Strategies: Creating comprehensive and data-driven digital marketing plans to achieve the client's objectives, which may include brand awareness, lead generation, customer acquisition, and retention.

Content Marketing: Crafting engaging and relevant content for various digital channels, such as blogs, social media, email marketing, and website copy, to attract and retain the target audience.

Search Engine Optimization (SEO): Conduct keyword research, on-page optimization, and technical SEO to improve organic search visibility and rankings on search engines.

Analytics and Reporting: Utilizing tools like Google Analytics to monitor website and campaign performance, generate reports, and use insights to refine marketing strategies.

Monitoring Industry Trends: Staying up-to-date with the latest digital marketing trends, tools, and best practices to ensure the agency stays ahead in the industry.

Client Communication: Regularly communicating with clients, understanding their goals and requirements, and providing updates on campaign performance and progress.

Team Collaboration: Collaborating with cross-functional teams, such as content creators, designers, and developers, to ensure seamless execution of marketing initiatives.
As a Digital Marketing Manager, I aim to use these skills and tasks to contribute to the growth and success of Bottled Imagination's clients, building strong and lasting relationships with them and delivering exceptional marketing results.
This is what we needed. A proactive, competent member of the team who could execute in super quick time. Did the AI complete the tasks to a good standard, is this the future of the workforce? Well in truth, for us, not really. 
We started with an easy one. Keeping up to date with current industry trends. In an industry that moves so quickly this was a key part of the job. But upon asking Aimee what currently was working and not working within the PR industry we hit a roadblock. She only has a knowledge database of up to 2021. This was an immediate issue, what worked in 2021 in PR doesn't necessarily work now.

Maybe we just haven't found Aimee's strengths yet, after all we all have our strengths and weaknesses. Perhaps Aimee would be a brainstorming and ideation machine. We are all about the ideas, and you can never have enough. So we gave her a brief:
"Come up with 3 digital PR campaigns for our US travel client. The campaign should target college students who travel during spring break. The measure of success will be links back to our clients website from relevant online publications across the states."
Let's see what she came up with: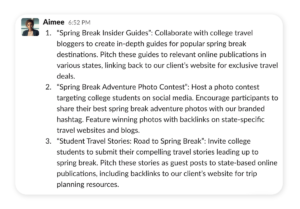 Not exactly the award winning ideas that we had hoped for. Although guides and hacks can get links, these aren't really Bottled Imagination ideas. Back to the drawing board. 
Next up we decided to get Aimee to create thought leadership, write social media posts, translate languages, and even join us to celebrate on one of our socials (we weren't quite sure how she would turn up, but she said she was coming). 

No surprise she was a no show on the night, and the disappointments didn't stop there. There was just false promise after false promise. From AI hallucinations and lies to little creativity, Aimee struggled to complete tasks at a level a human Digital Marketing Manager could. Although speed was never an issue, tasks would be incomplete and in reality, just used basic knowledge. 
The staff were also a little weirded out too. 

Did Aimee pass her probation?
We took a gamble by hiring an AI, and while we had high hopes for Aimee, she did not meet our expectations during the probationary period, leading us to make the difficult decision to let them go.
During her time with us, Aimee demonstrated some promising abilities – she was bl**dy quick at messaging back on Slack. However, there were certain areas where Aimee struggled to adapt, particularly in creativity and original thinking. As much as we wanted Aimee to succeed and be a valuable addition to our team, it became clear that this may not have been the match we had hoped for
AI isn't taking marketing jobs yet. Integrating AI into a workforce is hard and this highlights the importance of finding the right AI solution that aligns with any organisation's needs and culture.
We thank Aimee for her time with us and wish Aimee success in the future. For now, digital marketing is a human game.